Afrikan Wisdom: New Voices Talk Black Liberation, Buddhism, and Beyond (Paperback)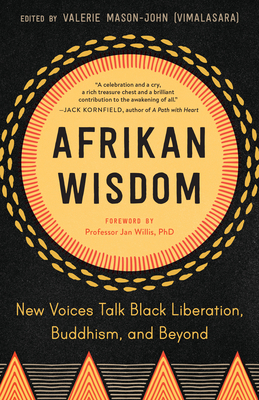 Description
---
A spiritual, political, and interdisciplinary anthology of wisdom stories from Black liberation leaders and teachers. Afrikan Wisdom represents an intersectional, cross-pollinated exploration of Black life--past, present, and future. Award-winning author and editor Valerie Mason-John (Vimalasara)'s collection of 34 essays--written by an eclectic and inspirational group of Black thought leaders and teachers--reflects on the unique and multilayered experience of being Black in the world today. This anthology instills in readers the knowledge, awareness, validation, and spiritual tools necessary to nurture both individual and collective liberation. It is both an inspiration and a motivation for Black readers, as well as anyone else interested in reading about emerging spiritual voices. Topics include:
- African and Afro-Diasporan cultures, histories, spiritualities, art, music, and literature
- Black radical traditions of liberation and consciousness
- Anticolonialism and antislavery
- Buddhist philosophy
- Social and environmental justice
- The prison industrial complex and mass incarceration
- (Kemetic) yoga, healing, and mindfulness
- Intersections with Indigenous cultures
- Addiction and recovery
- Transgenerational trauma.
About the Author
---
VALERIE MASON-JOHN (Author, Editor) is a public speaker and master trainer in the fields of conflict transformation, leadership, and mindfulness. They are the award-winning author/editor of nine books. Their debut novel, Borrowed Body, won the 2006 Mind Book of the Year Award. They co-edited the award-winning anthology The Great Black North: Contemporary African Canadian Poetry and co-produced blackhalifax.com. The co-authored Eight Step Recovery: Using The Buddha's Teaching to Overcome Addiction, which was the winner of the Best USA Book Award 2014 and Best International Book Award 2015 in the self-motivational and self-help category. Their most recent book, published in 2020, I Am Still Your Negro: An Homage to James Baldwin, has won critical acclaim.Mason-John is the cocreator of Mindfulness Based Addiction Recovery (MBAR) and is a certified professional Mindfulness Teacher, Recovery Coach, Life Coach, and a Compassionate Inquiry Facilitator and Practitioner. They have been practicing mindfulness for over 30 years and are one of the leading African-descent voices in the field of mindfulness and addiction, training professionals working in the field of addiction all over the world.Mason-John--also known as Vimalasara--was ordained into the Triratna Buddhist Community and is a senior teacher in this tradition. They are the chairperson of the Triratna Vancouver Buddhist Centre in British Columbia, Canada, and leads retreats nationally and internationally. They live in Vancouver, British Columbia.